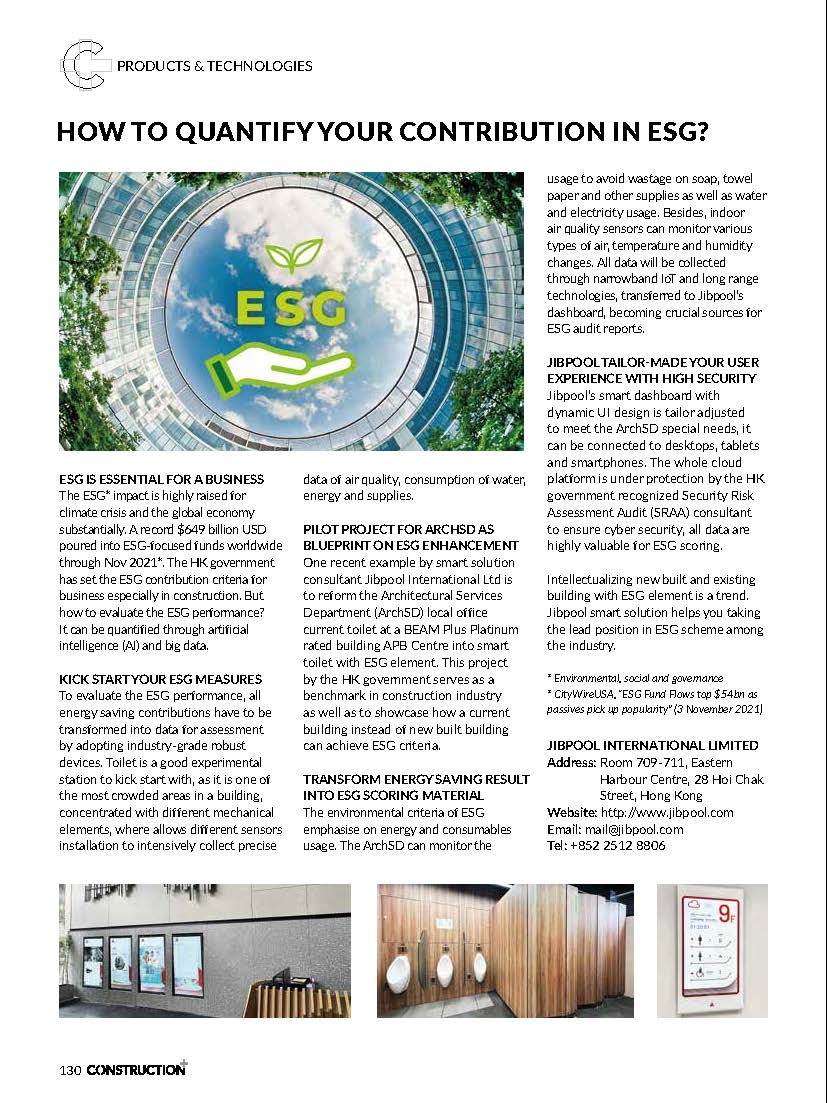 Construction+ 2022Q2 Issue – How to Quantify Your Contribution in ESG Through Jibpool's Smart Toilet Solution?
The Construction Plus Magazine by BCI latest issue 2022 Q2 has introduced Jibpool ESG solution with Smart Toilet Solution. ESG is a new topic for coperate, Jibpool act as a smart solution consulant with the HK government under APB centre renovation project, to demonstrate how to add ESG features into a current building by renovating the traditional toilet into smart toilet.
Full Article:
HOW TO QUANTIFYYOUR CONTRIBUTION IN ESG?
ESG IS ESSENTIAL FOR A BUSINESS
The ESG impact is highly raised for climate crisis and the global economy substMtially. A record $649 billion USD poured into ESG-focused funds v.,orldv.ide through Nov2021•. The HK government has set the ESG contribution criteria for business especially in construction. But how to evauate the ESG performance? It can be quantified through artificial intelligence (Al) and big data.
KICK STARTYOUR ESG MEASURES
To evaluate the ESG performance, all energy saving contributions have to be transformed into data for assessment by adopting industry-grade robust devices. Toilet is a good experimental station to kick start with, as it is one of the most crowded areas in a building, concentrated with different mechanical elements, where allows different sensors installation to intensively collect precise data of air quality, consumption of water, energy and supplies.
PILOT PROJECT FOR ARCHSD AS BLUEPRINT ON ESG EN HANCEMENT
One recent example by smart solution consultant Jibpool International Ltd is to reform the Architectural Services Department (ArchSD) local office current toilet at a BEAM Pl us Platinum rated building APB Centre into smart toilet with ESG element. This project by the HK govemmentserves as a benchmark in construction industry as well as to showcase how a current bui I ding instead of new bui It building can achieve ESG criteria.
TRANSFORM ENERGYSAVING RESULT INlO ESGSCORING MATERIAL
The environmental criteria of ESG emphasise on energy and consumables usage. The ArchSD can monitor theusage to avoid wastage on soap, towel paper and other supplies as well as water and electricity usage. Besides, indoor air quality sensors can monitorvarious types of air, temperature and humidity changes. All data will be collected through nanrowband loT and long range technologies, transferred to Jibpool's dashboard, becoming crucial sources for ESG audit reports.
JIBPOOL TAILOR-MADE YOUR USER EXPERIENCE WITH HIGH SECURITY
J ibpool's smart dashboard with dynamic U I design is tailor adjusted to meet the ArchSD special needs, it can be connected to desktops, tablets and smartphones. The whole cloud platform is under protection by the HK government recognized Security Risk Assessment Audit (SRM) consultant to ensure cyber security, all data are highly valuable for ESG scoring.
Intellectualizing new built and existing building with ESG element is a trend. J ibpool smart solution helps you taking the lead position in ESG scheme among the industry.
*Environmenml social and aovemance
**CityWireUSA. "ESG Fund Flows tap $541v1 as passives pick !\O popuklnry• (3 November 2021)